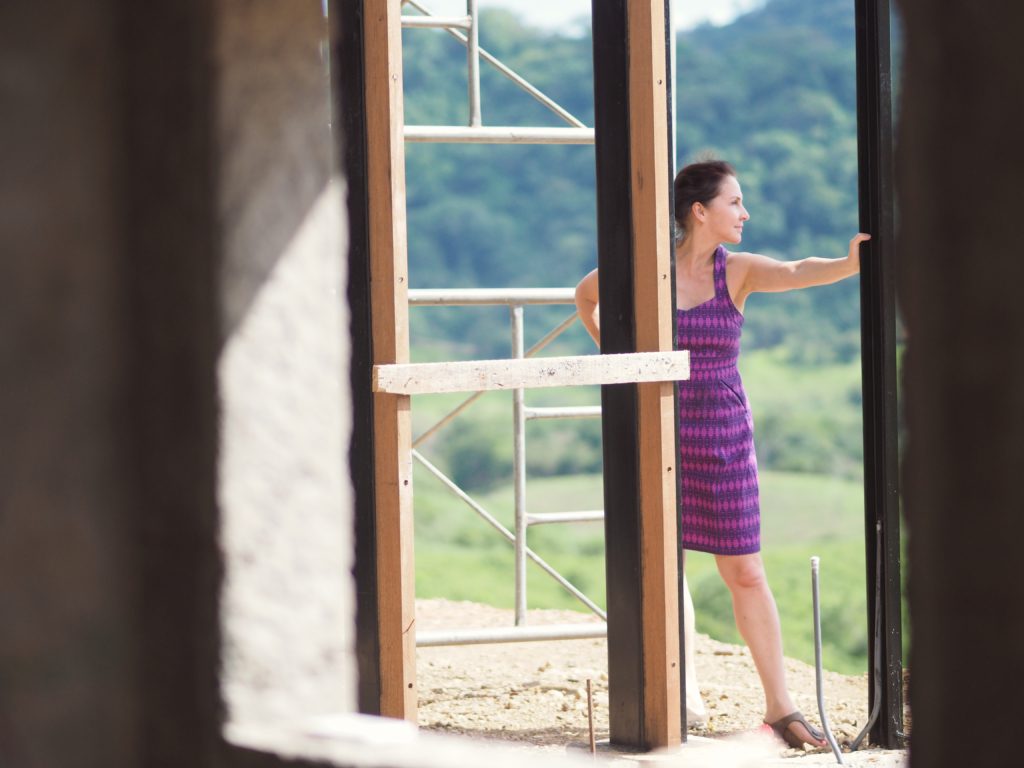 Guest post by Rachelle Marsan
Jump and the net will appear… and so we did
In July 2016 I did a crazy thing.  I rode out on horseback through the most beautiful place I had ever seen and said, "Here. This is our spot." There were no roads, no structures, no clear boundary lines, nothing but a few cows and a spectacular view of Costa Rica and the Pacific Ocean.  Something had stirred within me.  I just knew.
"Go for it!" my love Paul said to me on the phone that night, as I knew he would.  We never say no to each other.
A few months later I brought Paul to see Big Sky Ranch.  He felt exactly as I did.  The land was even more breathtaking than I had described.  We would make a life here.
That was September 2016.  So here I am, one year later waiting to see our home for the first time.  It's a few months from completion, but the bones are there.  We have lived for updates and pictures for the past year, but today I will see our house.
Blue, the visionary behind Big Sky, and truly the most inspirational person I know, is taking me up to our property.
It's 5 am and I'm lying in bed at the ranch, listening to the howler monkeys and imagining what it will be like to wake up to that sound everyday.  I'm thinking about what I am going to do when we live here, how I am going to contribute, and what I still need to do to get us here, but most of all, I'm thinking about our house.  For a year we have looked longingly at renderings and elevations and floor plans and I have walked those floors a thousand times in my mind.  I have swum in the pool under a blanket of stars and drank coffee in the morning out on the terrace.  We have had rousing parties on the pool deck and toasted the sunset.  Today I will see it all.  How will it feel? Can the reality ever be as good as what I imagined?
After breakfast and what feels like an eternity we are ready. Blue, Blue's dogs and I jump into the truck.  We drive down the road, dogs run out to greet us, neighbors wave.  There is a new litter of pigs to admire.  We drive through a sparkling riverbed, overflowing from all the rain that has fallen this year.  Blue jumps out and opens the back gate… and in we go… and there it is.  The land that stole my heart.  The roads have been cut.  Blue lights up as she tells me of all the plans and her vision appears before my eyes.  We go the long way, building up the suspense.
Then, we drive up to our house… and it's bigger, better, sweeter, stronger, more majestic, more solid, more perfect than a year of imaginings.  I walk through each room to find a view more soul inspiring than the last… and just like a year ago when I claimed our spot on this earth, I knew.  I knew that this was where we were meant to be.  The net had caught us.  This was home.